January 4th, 2010
One of the things that keeps surpring in Cape Town is how creative the people are with their limited public transport services. Ok, there are a few buses but sharing a car or a truck is less expensive and it's hot anyway so you might as well hang your head out of the trunk:)
In South Africa these kind of traffic hazards are completely normal and we were probably the weird tourists making pictures from our car..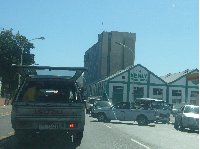 South African Traffic in..
You also see a lot of kids playing soccer and, especially with the world championship coming up which will be hosted by South Africa, the locals have a real passion for sports which has spread out from the stadium to the streets of Cape Town.
Of course you'll have to ask yourself who will actually benefit from this world chiampionship because there's so much poverty aroudn that it becomes hard to imagine that something superficial like a soccer tournement will make a difference.
Therefore it would be better to focus on those activities that are being organized to help the kids and that educate them. One of those projects would be the elementary school in Nyanga, a township of Cape Town, which tries to guide the kids with several programmes.
These programmes are put into practice with the help of volunteers and vary from gardening lessons and sportive activities to colouring or helping them with school exercises. There is also a lot of attention for the kids' personal circumstances at home and the programme is set up to help them talk about their difficulties and offers support where needed.