January 4th, 2010
A great trip to do is the Garden Route tour. These trips can be booked in Cape Town and include a bus tour through the Garden Route National Park with stops at all the major attractions and lookouts.
The Bazz Bus that drives the Garden Route is a kind of backpackers bus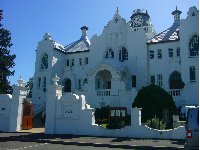 South African Church on the..
One of the nice stops is the town of Wilderness, a popular holiday resort with gorgous beaches and in sesaon you can even go whale watching here. The nature has a lot to offer but if you're more of an adrenaline type you can also enjoy sportive activities like paraliding, canoeing and abseiling.
Also at the beach in Wilderness you'll see a lot of kitesurfers looking for some action. In the afternoon the Bazz bus drove us to St Francis, a town near Jeffreys Bay, where we arrived the same evening. In St Francis we met up with some friends and spend some relaxing time on the beach.
Jeffreys Bay is the place to be in South Africa if you're into surf. There are a lot of surf shops where you can hire boards or purchase trendy surfing gear.
The next day the bus left for Buffalo Bay. WOW! Amazing beaches with hardly any tourists. The coastal cliffs and sand dunes make Buffalo Bay a real rugged place and one of those spots where you just want to wander along the beach and collect shells:)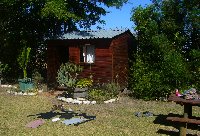 Our cabin in Wilderness
Besides the beach there is not much in Buffalo Bay so we were ok with the fact that the next destination on our bazzbus ticket started calling us. So we headed to Knysna, a bigger and more developped community. People from Buffalo Bay come here to do their grocery shopping.
In Knysna we visited one of the biggest Rastafarian communities which was some of a disappointment. First of all, we had to pay an entrance fee and once inside it got even worse. The children in the community were ordered to smoke hash joints for entertainment which was too stupid for words and very sad. The children were told where to stand so the tourists could take some 'nice' pictures..Well no more rasta for us!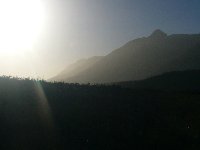 Picture outside the Bazz Bus
After this weird experience we took a boat trip to Lions Heads, a very beautiful area where the ocean meets two mountains in their middle. We stayed here for sunset which felt like a good end of the day.