January 5th, 2010
In provinces like Salta there is a very strong Gauchos tradition and it's without a doubt that these Argentinian cowboys know their territory best. Argentinian horses have been used to hunt after cows for hundreds of years and Gauches were known as rough individuals with heavy manners who, within their own community, were complimented for their bravery and fearlessness.
Outside of their communities the gauches were looked upon as barbarians who ate their meat raw on an open fire right after the animal had been slaughtered.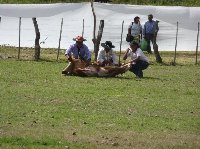 Argentinian cowboys catch a..
Today the traditions of the Argentinian Gauchos are stil very present in the country sides and their negative reputation has changed. The way the gauchos grilled their meat in the open has actually become a national Argentinian cooking style, cooking assado.
The Argentinian cowboys still live in their own villages eventhough their number has declined. Tourists can visit these communities and experience the real gauchos traditions as horse riding, traditional boleadoras dances and of course, the true Argentinia cuisine!
After hearing about the Gauchos and their old country side traditions we decided to visit one of the villages. We actually went horse riding ourselfs and got to taste some real Argentinian steak. Yummie!