January 8th, 2010
The Similan Islands in Thailand are the most beautiful island in Thailand and luckily for us, not crowded with tourists at all! You can visit the Similan Island on a day trip but the best thing is to do a sleepover and book a three days and two nights tour.
This way the daytrippers leave the beach in the afternoon and you'll have this amazing paradise all to yourself. The Similan Islands are a group of 9 islands in the Andaman Sea which are protected by the national park of the Similan Islands.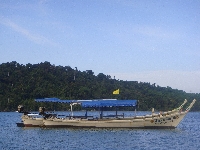 A Longtai in the water at..
This park closes a few months per year so make sure to check in which period you can visit the Similan Islands and book your holiday then because you cant miss this gorgeous part of Thailand.
The tours leave from Khao Lak the town where the tsunami hit hard in 2004. By now the town has done a great job the rebuild the city centre and tourists are very welcome again!
The best thing is to arrive on Phuket and take a bus or taxi to Khao Lak. The tour operator will pick you up at your accomodation in Khao Lak from where you're speedboat will be ready to bring you to the Similan Islands. It will take a while to get to the islands but departing from Phuket by boat will take you even longer!
When you arrive you'll definitely be speachless and the beauty of this place is abnormal! Just a few meters from the shore you can snorkel for the most colourful fish and divers are in for a treat! Turles, octopuses, sharks and amazing coral reefs are all part of this Similan adventure.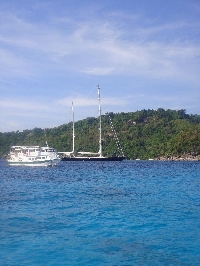 Happy travellers on the..
The three day tour is so complete we never wished for anything. There is plenty of time to relax on the beach, take snorkel tours, visit the different islands and enjoy their amazing lunches and dinner. Their tour guide was the best we had and very aware of everything.
You could choose wheather you wanted to take snorkel lessons, dive or just do nothing. Water and drinks were always on board and on the main island you'd have the option of sleeping in a cabin or putting up your tent on the campground.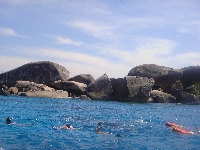 Daytrips from the Similan..
The cabins are more confortable and you do have to book them in advance. If you're not too keen on the cabin sheets, bring an extra pair:)