January 10th, 2010
On the Similan Islands there's more than beautiful beaches and when you're staying on this little paradise there's a big chance you'll get to see some impressive island wildlife too.
On the Similan Island there are a lot of crabs going by the name of the similan hairy crabs and the size of these animals is pretty impressive. You can take a night tour departing from the islands reception with an experienced guide to try and find some of these not even too hairy creatures.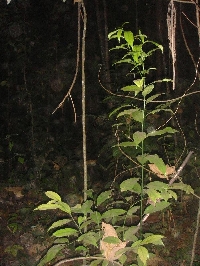 The forests on Ko Similan
Torches are provided by the tour guide and it is advised to stick together as the paths running through the forest can be pretty tricky with holes and animals on the lurch. Not only did I, of all tourists, fell in an old bridge hole!
Luckily for me the python snake lying underneath the bridge was just two meters away!! Well, my friends got me out, thanks for that, and we could proceed the tour.
We spotted two or three giant crabs which weren't too happy about us walking through their territory. Especially the guide's esamination of the animals scared them a bit as they tried to run away, and these animals are fast!
After seeing enough hairy crabs, snakes and spiders we returned to our tents ready for some serious nightmares:)