January 14th, 2010
If you want to visit the old Wats of Ayutthaya the only thing you need to arrange your personal tuk tuk driver who will bring you anywhere and bring enough water to go sightseeing during the hot Thai sun.
Ayutthaya is the old Thai capital and one big historic site as it comes to temple ruins and impressive Buddhist statues. On our daytrip through Ayutthaya we made a stop at Wat Gudidao, one of the temples where the disastrous consequences of the battles between Thailand and Burma are still very visible.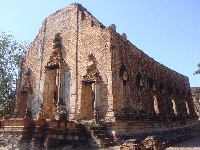 The temple of Wat Gudidao
Wat Gudidao is a good example of a Thai monastery which is dominated by signs of the civil wars. Thailand was ruled by many dynasties until it was sacked by the Burmese leaving a massive distruction in the capital of Ayutthaya.
Monks still visit this temple daily to bring their offerings to the Buddha's and have draped silk sarongs over their statues to cover their broken parts. Most of the Buddha statues have been beheaded by the Burmese to remind the Thai of their defeat.
Today Wat Gudidao looks a bit deserted eventhough tourists do visit the remains. The quietness and the mystic of this place makes you realize the value of the sacred place for the local Thai poepl and experience their past in a more intense way.
We were the only tourists at the time and very lucky to witness a more temporary Thai battle as a Siamese cat was trying to attack a green grass snake. The unlucky snake seemed to be ending up like the statues around him but at least Wat Gudidao had prepared him for his beheaded destiny:)