September 27th, 2009
We arrived in Ayutthaya by train after a few days in Kachanaburi. When we got off the bus after a long trip we started looking for some tourist information along the road.
For the next 3 days we booked a room at the Ayuttaya Thanee Hotel and our first struggle seemed to be; finding the hotel! We were soooo lucky to run into Mrs Kwanjai Wongin, an amazing and ultra friendly thai lady who runs a tuk tuk service in Ayuttaya.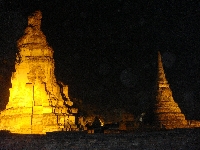 Travel Ayutthaya
Kwanjai not only offered to take us to our hotel but helped us organise an unforgettable tuk tuk tour with stops around all of Ayuttaya's highlights that we booked rightaway for the next night.
Not only were Kwanjai and her husband, Mr Deng, one of the most friendly and generous people that we've met in Thailand, they also made it possible for us to see everything that we wanted to see in Ayuttaya.
Kwanjai and Mr Deng put all their effort in their tuk tuk service and have one of the most beautifull designed tuk tuks I've seen so far in Thailand. Because of the hard work and the long hours they make, their little girl joins them late at night as she sleeps on the passenger's seat.
After we did one Ayutthhaya day tour by tuk tuk on our second day we decided to take the temple tour at night with our new friends as well. I would definetely reccomend the night tour to anyone as it shows you all of Ayutthaya's old temple ruins by nights as they are lit for a couple of hours. Truly magic!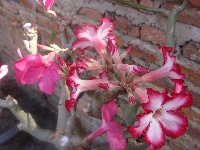 Travel Ayutthaya
Even on our last day Mr Deng accompied us to the railway station at the very last second ( we forgot to book the tickets for the night train to Chiang Mai..) and out of friendship he even offered the ride to us!
The Ayutthaya Thanee Hotel where we stayed was a real surprise and entering the hotel we sure didn't expected to get a room as big and as luxurous as the one we got. The hotel seemed pretty deserted and we ran into 3, maybe 4 other guests during our stay. Breakfast was fine.