February 6th, 2010
If you want to visit both Kanchanaburi and Ayutthaya but start your Thailand trip in Bangkok, the best way would be to head to Kanchanaburi first and then take a bus to Ayutthaya. From Kanchanaburi you can only get to Ayutthaya by bus because there is no train connection. In the end it actually is a really great experience and you get to see a lot of the rural Thai scenery.
The bus from Kanchanaburi to Ayutthaya takes about 4 hours to complete the ride and you have to change bus lines in Suphanburi. The bus to Ayutthaya leaves every hour from the central bus station in Kanchanaburi close to the Food Market on the city's main road.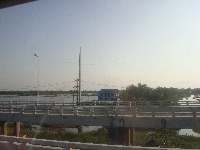 Little house on the other..
You can book a seat on an air-con bus but besides their cheerful interior the buses aren't too comfortable. I had a fine trip and a seat by the window so I couldn't complain. The nice thing about taking a busride is that you get to speak to some of the locals and see some of the little towns on the route where you would have never gone otherwise.
The driver picked up a whole group of students who had to drive for hours to get to school but didn't seem to be bothered by the long bus ride. At a certain point we entered a really poor rural area where cottages were build along a train rack without any facilities and all these well dressed students got off the bus. That was a real eye opener for me. Probably these families save up everything they have to get their children to school and to get them the education and materials they need.
It might be a 4 hour ride but you will get to see a different side of Thailand wich will impress you and appreciate this country and its people even more.