January 15th, 2010
Wow...
My boyfriend is doing his internship in Madrid, a very nice place aswell, so I went to Madrid to stay with him for a week. We already spoke about maybe going to the south, so it would be a nice small real holliday because of the sun ánd the beach!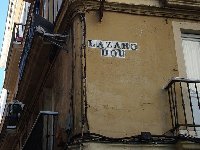 Streets in Cadiz
First we went with the nightbus to Cadiz, we arrived at Cadiz in the morning. From there we went with the bus to Conil de la frontera. On the internet we booked a small apartment, indeed it turned out to be a small one but a hell of a roof terrace....... beautifull!
Let me first tell you about the place, it's a magical place right at the beach!! All the houses and buildings are white and looks beautifully from the beach and from our roof terrace. Its very quite and easygoing, with small alleys and pitoresque views. It's the best place to chill out, don't expact much more from it...but I didn't even thought of wanting more.....................
Check out the pictures :)