February 1st, 2010
Northampton is a tiny town between Geraldton and Kalbarri with a typical Western Australian feel. There is maybe one main road alongside which you'll find some antique shops, clothing boutiques, the local supermarket, the hard ware store and of course a local pub to play bingo.
The old buildings in this copper mining town are worth a visit though and the St. Mary's Church of Northampton is also very charming. Northampton does have a Visitors Centre where you can go for informations on the Northampton Heritage Walk as the town was listed a National Trust classified site for its rich historic value.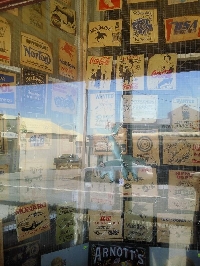 Antique shop in Northampton
Besides these few attraction there isn't very much to see in Northampton and we decided to drive through town because it was October, the month of the Northamptons Airing of the Quilts, an annual event when locals drape the town buildings in colourful quilts and colourful bed covers.
Unfortunately we missed the 'big' event..