February 9th, 2010
From Greece we arrived in Turkey by camper, an old one but perfect for extreme conditions like these. We travelled alongside the entire Black sea coast untill we reached the Turkish border with Georgia. We decided to travel down south though the east part of Turkey and follow the borders with Georgia, Armenia, Iran, Iraq and Syria.
We entered the region of turkish Kurdistan where we visited some of Tukey's less travelled and known cities like Diyarbakir, the largest city of southeast Turkey with its impressive city walls. We also visited Malatya, the apricot capital of Turkey with its amazing valleys and fresh fruit.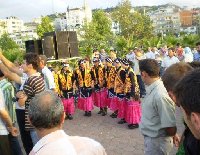 Armenian girls permorming a..
We saw the most stunning landscapes like the snowy peaks of Mount Ararat, where the Ark of Noah came to rest according to the Bible book of Genesis. We also visited the high mountain of Nemrut Dagi with its beautiful statues which were built to the orders of Antiochus the Great and are spread all the way up the mountain.
We travelled hundreds of chilometers through the Anatolian steppe, drove through war zones and were even offered accomodation by both the Turkish army as the Kurdish PKK movement. It might have been a high risk road trip but to be honest we never felt fear or worries. The locals were very generous and kind to us and how poor the people were they had a great dignity and treated us always with respect.Their helping hand and hospitality turned this trip in such a special experience.