February 11th, 2010
A couple of months ago I went on a day trip to London and I had a great time! If you would like to visit a dynamic metropolis but also appreciate a bit of tranquility London is definitely the place for you. London isn't an economic travel destination but we did manage to find a list of good hotels and hostels that didn't cost a fortune and seemed OK.
Today prices have gone down a little but when I was in London everything was really expensive. I even remember paying 9 euro's for a pack of sigarettes..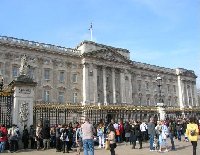 Buckingham Palace in London
But you can't go to London without having a shopping spree! The streets of London's CBD are loaded with chique boutiques and great gadgets that you don't know where to look or what to buy! Especially the shoes are gorgeous and you will find some of the most trendy models.
Walking through the streets of London you will see all kinds of people and this city is a great cultural melting pod and the people are really friendly. Besides the people, London is a great city for sightseeing with popular attractions like the London Tower Bridge, Piccadilly Circus, Portobello Road and the Big Ben.
The only downside for me would be the coffee..although I absolutely loved the muffins that came with it:)