February 11th, 2010
My trip to Paris was short but very intense at the same time. We spend a week in Paris and tried to see ad much as possible and I don't remember having walked this much in my entire life..
We had booked a guide to walk us through the city to see all the major touristic attractions and the only thing we didn't get to see was the Palace of Versaille. After spending six days of sight seeiing we had one last day left so we had to choose between Disney Land Paris and the Palace of Versaille, about 20 chilometers south west of Paris.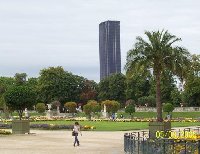 Jardin du Luxembourg in..
We decided to visit Versaille but unfortunately the palace was closed so we ended up in Disney Land anyway which was a lot of fun too but I still regret not having seen Versaille so that would be the first thing on my list next time I will be in Paris!
Disney Land was fun but somehow I expected it to be better and it seemed more suited for younger visitors. In Paris we visited a lot of churches and of course the Eiffel Tower, one of my favourites but there were so many beautiful structures in Paris that it becomes hard to choose.