February 13th, 2010
Minorca is one of the Balearic islands and a beautiful place to go on a holiday. Minorca is known for its beautiful landscapes and crystal clear waters where you will be able to walk along the endless beaches without being bothered by a touristic crowd.
Tourism is the most important business sector on this island and most people living on Minorca depend on the visitors that come during their summer holidays. If you're considering a trip to Minorca I would definitely recommend hiring a car to drive yourself around the island and explore all its hidden gems.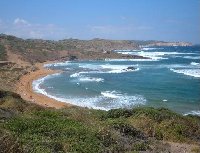 Photos of the Minorca..
The capital of Minorca is Mao, also known as Mahon, located in the eastern part of the island. The Port of Mahon is very characteristic and a popular tourist attraction. The port is also known for its superb seafood restaurants and its late night walks through this beautiful city centre.
Minorca isn't a large island compared to the nearby Majorca and ows its name to its smaller size. Wits its 50 kms lenght and 17 kms width Minorca becomes an easy travel destination to explore. There is an immense tranquility and the landscapes of the islands natural reserves will take your breath away. Don't forget to ask for a road map so you won't get lost while driving to one of the many beaches as roads can be unsealed in some places or just easy to miss.