February 13th, 2010
I think this has been the most beautiful trip I have ever made. I haven't travelled that much but driving and cycling around America was an amazing experience!
I went to San Francisco and cycled around the entire city. I still can't describe the feeling of cycling on the Golden Gate Bridge. Also visiting the prisoner's island of Alcatraz was pretty intense.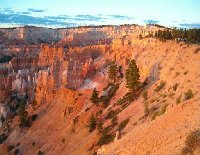 Photos of Grand Canyon
From San Francisco I headed to Las Vegas which on the other hand didn't appeal to me at all. Las Vegas is beautiful at night but during the day its just to much plastic fantastic. I spend one day in Las Vegas and that was fine.
The good part of the trip was yet to come and the next days we cycled parts of the Grand Canyon National Park which was amazing! We also wento to Monument Valley, Arches National Park and of course we couldn't skip mountain bike paradise, Moab in Utah...Amazing!! Its too bad those 14 days passed so quickly but I definitely plan on going back there!