February 21st, 2010
London is big city which attracts a lot of tourists every day. The streets of London are always busy and there is enough to see and to do.
The city itself is really clean, organized and serviced by a good transport network. The people are also friendly and willing to help you on your way to one of the many popular attractions.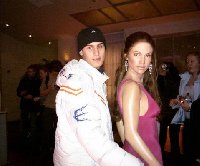 The Madame Tussauds in..
We visited the Madame Tussauds in London which was really nice. Some of the statues actually looked real to me and they did a great job recreating most of them.
Besides Tussauds you should also visit some of the beautiful parks in London or some of the more common sights like the Big Ben, the London Eye or the River Thames. Wherever you will go, there is plenty to see in this great city!