February 24th, 2010
London is a beautiful city with so many things to see and do. I spend three weeks in this amazing city and I still don't think it was enough to enjoy all of London's sights and attractions.
The best way to get from one place to another would be by metro as the London Metro System is really efficient, quick and easy to understand. Just make sure to avoid the peak hours as it can get pretty crowded.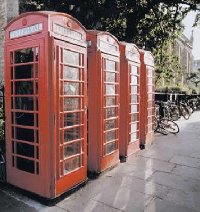 Classical red telephone..
I visited the Museum of Modern Arts in the centre of London which was really impressive. From here I just started walking to all the other attraction because the chances of getting lost are pretty small and you could always ask the locals for directions as they are really friendly and helpful.
The only trouble I had was with the traffic and all the cars driving in the opposite direction which made crossing the street seem like a difficult task!
During my stay in London I had booked a room at the Royal Court Appartments which are located in Paddington, near Hyde Park and really close to the city centre. To get from the hotel to the Airport of London Heathrow it only took about 15 minutes.
There also was a kitchen space next to the room which in the end we didn't use very much but if you're planning on cooking this would be a good option.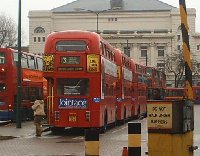 The double decker buses in..
Food definitely would be the only negative point on this trip and I had trouble finding a nice place to eat. In the end I spend most of my lunch or dinner meals at local fast food and kebab places. Maybe it's just a question of knowing where to go but in the city centre you won't spot that many good restaurants which was a pity.