March 1st, 2010
I went to Paris for the Juste Debout Hip Hop Festival, the world chiampionship for hip hop dancers. At this annual competition you're able to see dancers from all over the world perform their acts in different dance categories like poppin, loking, new style, house and sperimental.
The Juste Debout is an event for hip hop fanatics which is held every year in Paris and being able to witness the talent of these dancers who battle each other for three days is an amazing experience.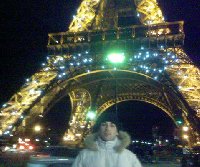 Paris by night.
Besides the festival Paris is a beautiful city to visit and it' really well connected.
You could take the subway almost everywhere and there are several quarters which are really worth a visit like the Latin Quarter. The people were friendly and helpful.