March 19th, 2010
Monestir de Poblet is located in the heart of Catalonia at about a hundred chilometers from Barcelona.
The Cisterian monastery is considered a UNESCO patrimony and of great importance for the county of Conca de Barberà which attracts numerous tourists and visitors every year.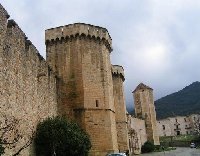 The Poblet Monastery in..
The ticket you have to buy to visit the monastery will cost you a few dollars and even less if you can get it with a certain reduction.
The ticket includes a guided walk around the monestary and an explanation, in Catalan or Spanish depending on the time schedule that day, of the historical and cultural value if the monastery.
For those having difficulty with these two languages the guide will hand out brochures in French and English.
The visit will take up to about 20 minutes and is really interesting. You will be able to visited the different rooms of the monasteru and take a look inside the chapel where the tombs of the Aragonese kings are kept, quite impressive.
My favourite part of the monastery was the rectangle shaped courtyard with a small altar where the monks would wash there hands before coming together for a meal.