March 22nd, 2010
For my graduation I my parents gave me a ticket to Paris so that I could finally visit this amazing city in all its beauty. I had a great time and this is one of the holidays I will never forget.
Walking through the streets of Paris it almost felt like a country on its own, something seperate from the rest of France.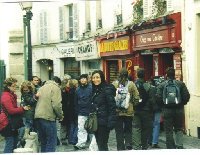 French quarter of Montmartre..
There is so much to see and so many beautiful places to visit and even if you would completely ignore all the tourist guides you will discover all kinds of unique shops, eateries and local treasures.
Paris is one of the cities where I would transfer to without too much thinking and my favourite quarter would be the artistic Montmartre with its characteristic streets and creative artists.
I also paid a visit to the Père Lachaise Cemetery which is the largest cemetary in Paris and where you will find the tombs of the people who made Paris the amazing city it is today.