April 4th, 2010
From the airport of San Juan I travelled north east to my first destination, Tamarindo.
Tamarindo is a peaceful town on the Pacific Coast and known as a true surfers walhalla. People walk around in swimsuits carrying their boards everywhere they go and the vibe is just very relaxed.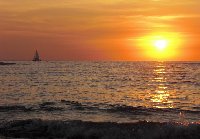 Tamarindo beach at sunset,..
The beaches are amazing and the waves perfect to learn some surf! The hostel I'm staying is practically located on the beach and I couldn't have wished for a better place to stay.
During the day, besides realxing on the beach, there are a lot of nice tours you can do like going horse riding, kayaking, surfing, quad driving or cruising through the mangroves.
The nature is spectacular and in most places still uncontaminated. I'll guess I'll stay here a while to check out these beaches!