June 16th, 2011
Like I wrote in my previous blog I spent three months in Costa Rica where I studied in Playa Flamingo on the country's west coast. I added some pictures of my school and the area around town.
I would like to recommend a travel experience combined with a studying abroad experience to anyone who still is thinking about a similar experience because it will be the best thing you will ever decide!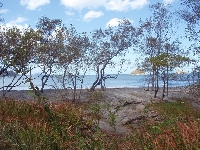 Tours Playa Flamingo
In Playa Flamingo I stayed with a local family and was 'adopted' for my time there. They were such warm and welcoming people and they really made me feel at home away from home.
My school in Playa Flamingo was the best thing and even had a swimming pool! Of course we also went to the beach in the weekends, to Playa Potrero or Playa Flamingo Beach my school. I had a great time studying abroad in Costa Rica and met a lot of niece people with whom I hope to remain in contact.