November 24th, 2010
I visited the Tenorio Volcano National Park during a family holiday in Costa Rica. Tenorio lies northwest of the famous Lake Arenal and eventhough the road up to the park might be challenging, and definitely requires a 4WD vehicle, the destination is worth the jungle ride.
Tenorio is located in the northern part of Costa Rica near the Arenal Volcano and therefor is also part of the same conservation area known as the Arenal Tilaran Conservation Area which includes some other territories as well.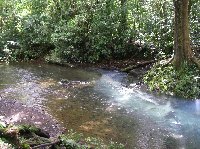 Travel Blog Tenorio
The Tenorio Volcano National Park had some excellent hiking paths which can be done by all types of hikers and even I was able to get to the higher points and I do not consider myself that much of an athletic..
The turqoise lagoons, coloured by by means of a volcanic chemical reaction, and the waterfalls add to the almost fairytale-like atmosphere. It's no wonder they called the river running through the Tenorio Volcano National Park the Celeste River, or Rio Celeste in Spanish.
The contrast of the clear blue water and the lush green rainforest against the volcanic peaks of Tenorio makes this park the perfect place to photograph some of the nicest panoramic views in Costa Rica.