September 22nd, 2011
Hi there! This is my first review blog about my backpacking holiday in Costa Rica where I had an amazing time and met loads of crazy friendly people.
The backpacking trip started in a place called Puerto Viejo in the Lemon Province where I stayed at a hostel called Rocking J's, the perfect place to meet new people, and a very laid back beach town to start your journey.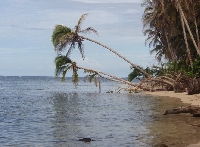 Travel Cahuita
I slept in a tent which was good. From Puerto Viejo I went to Cahuita to visit the Cahuita National Park located right on the beach within the Caribbean La Amistad Conservation Area of Costa Rica and this is one of the best place to meet up with the local wildlife.
I made the hike/tour with some other guys from the hostel and we had a lot of fun. Look out for the curious racoons and white-headed capuchins, they can be really playful. The real thing to worry about would be the yellow and venomous Eyelash Viper snake (see picture below) and you should keep your eyes open to make sure not to step on one of these sweethearts!