April 11th, 2010
After a long haul trip from Brisbane, Australia to Las Vegas.. we were buzzing to start to enjoy the night life of Vegas.. So many shows to see in such a short time.. we stayed up as long as we could before the jet lag set in...
Next day out of the Hilton hotel onto the mono rail to as far as we could go.. stepped off into the MGM huge hotel. Lions and happy people just out like us enjoying the sights sound and food delights.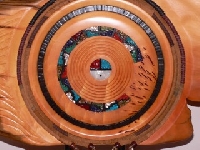 Expression of Art in..
May be it is the happy gas - oxygen they pump into the hotels to keep you going, what ever, it felt good.
We saw about a third the strip could offer and even had the chance to rock on down in a taxi, with a happy chappy.. to Fabulous Freemont Street. Next time we are going for 10 days, so we can enjoy more shows and fun in the dessert town. Loved Cher at the Palace.