July 31st, 2010
Las Vegas is one of those travel destinations like Monaco and St. Tropez where nothing is too much and people like to flaunt what they have.
Las Vegas is also the city of luxurious hotels and the country's most exhilarating casinos all fighting for a little bit of attention on the Las Vegas Strip.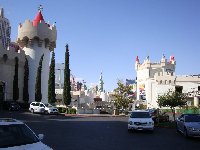 The Excalibur in Vegas
The Strip is the place to book your hotel deals as this is considered the boulevard of Vegas, the place where you go to spot and get seen.
Also tourists visiting Las Vegas love The Strip and make their choice of the many Las Vegas Hotels.
We stayed at The Venetian, one of the most beautiful hotels in Vegas but obviously in Vegas that is little said as the whole strip is decorated with hot shot skyscrapers and monuments trying to seduce tourists to check into one of their fancy rooms.
New York New York can't be missed with its colourful skyscrapers and giant billboards while The Bellagio goes for class with its elegant fountains and lightshows late at night. The Luxor is a great hotel for those looking for some action as the hotel offers it all from theatre shows to club nights.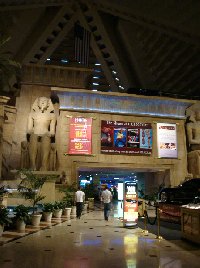 Inside Luxor
For the romantic of heart the castle of Excalibur or a trip to Paris right in the center of Las Vegas might be a good alternative, for the big spenders the MGM Hotel, or of course The Bellagio, and for those who never made it to Rome there's always Ceasar's Palace.
The Venetian was our first choice and it kind of felt like love at first sight. The whole interior is so pretty with the indoor canals and gondeliers turning your city trip into something really special.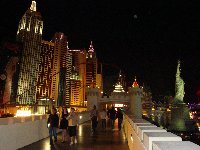 NY NY
It's also one of those places that will get you a hotel deal on The Strip but offers you an escape from all the chaos within the hotel itself. From The Venetian it's a short walk to San Marco Square for a drink or a real Vegas pizza to enjoy.