March 12th, 2010
Las Vegas is the best city in the whole world IF u want to have Fun! I thought Vegas is all about casinos and gambling, but trust me Vegas is much more than that! So unique with all those hotels and every single one of them has a different story! And the best part is: Everyone Is Happy In Vegas! All the faces u will see and meet on the street, on the Strip are so positive and full with great energy!
If u want a different experience take tour to the Grand Canyon!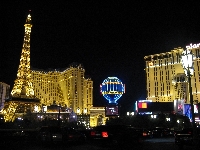 Travel Experience Las Vegas
Its Amazing!
p.s. No one can describe Vegas, u have to go and Feel it!