July 13th, 2010
In 2005 me and my wife made a trip through the USA and started our adventure in Las Vegas. Las Vegas is known for its nightlife, amazing shows, beautiful fountains, impressive hotels and of course The Strip which won't ever bore you!
Most popular Las Vegas hotels on the strip can be booked in advance and this really is the place to be for tourists and visitors wanting to live the real Las Vegas experience.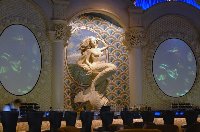 Trip to Las Vegas
We stayed at the world famous Bellagio hotel, without a doubt the most impressive hotel in Las Vegas with its gorgeous fountains and incredible decorations.
We spend our days in Las Vegas sightseeing, taking pictures and trying our luck at the casino. What a place! On the strip you'll find everything you need but don't come here in high season without a hotel reservation expecting deals and packages are to be found on every block because Las Vegas can get pretty crowded and prices will rise to a point that not only 5 star hotels as the Bellagio will cost a fortune.
Just make sure to get a room before arriving in Vegas so you will be able to enjoy this amazing place to the fullest. Besides the Bellagio, which is a touristic attraction on its own, we also visited Ceasars Palace, another popular casino hotel in Vegas, this one also decorated with beautiful roman pillars and curious fountains.
From the Bellagio and Ceasars Palace to the MGM, Circus, Luxor, Montecarlo, Mirage, New York New York and The Paris, all gorgeous hotel casino's and true eye cathers making Las Vegas the city of fortune. Especially at night, The Strip is amazing and you'll don't now where to look. The panorama's are stunning as all the casino's are lit up and a gold light shines over the cities fountains and skyscrapers.