April 26th, 2010
The island of Sint Maarten is located south of Anguilla and can be split up in two parts. In the north you will find the French St Martin while southern Sint Maarten is part of the Netherlands Antilles.
Both parts have their own capital and you can easily travel from one part of the island to the other. We started our journey in the North, in Marigot, the capital city of Saint Martin.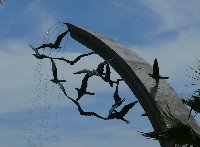 The harbour of Marigot,..
Marigot is the largest city on Saint Martin and a real Caribbean seaside town. The local markets, held every Wednesday and Saturday, are great for buying ingredients, fresh products, beautiful fruit or hand made souvenirs.
From Marigot we we travelled north through the French part of the island and we also did a boat trip to the Penel Island off the North eastern coast of Saint Martin.
Back from our trip we headed south to Philipsburg, the capital of St. Maarten and part of the Netherlands Antilles. Philipsburg is a beautiful town with gorgous houses and stunning beaches.
After a few days in town you can also decide to explore the beaches on the South eastern part of the island like Maho Beach which is beautiful. Simpson Bay is also great if you want to go for a sailboat ride or if you're simply looking for gorgeous views.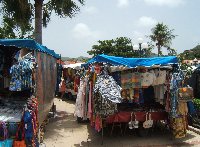 Pictures on the market in..
Besides for its crystal clear waters and beautiful white sand Maho Beach is famous for it proximity to the Sint Maarten Airport which has the shortest runway and you can see the airplains flying just a few meters, I think about ten meters above your head, incredible!
We also visited the two forts who were of great importance for the Dutch on St Maarten, Fort Amsterdam and Fort Willem. You can still see the remains of the forts and the