December 3rd, 2010
Bonaire is the smallest island of the ABC islands which contain Aruba, Bonaire and Curacao and are a part of the Netherlands Antilles.
But eventhough Bonaire might be less touristic than its two bigger sisters her beauty is still breathtaking so what better destination to think of for our family holiday!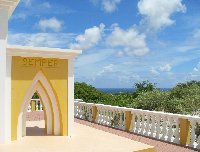 Holiday in Bonaire
This November my wife and I wanted to celebrate our 30th anniversary with the whole family but since everybody is always complaining about their busy agenda we came up with the idea to go on a Caribbean Cruise visiting the Netherlands Antilles and to relax and catch up with eachother while celebrating in one of the world's most exotic angles.
We booked our trip with P&O Cruises, a great Cruise Company which turned out to have a great staff and very good standards. While in Bonaire we rented two cars so we could explore the island without having to follow every page of our travel guides.
I can honestly say that going on that Caribbean Cruise made my year and anniversary so much better because spending a travel experience with the kids and their partners was just priceless!