July 13th, 2010
Costa Rica is a great place for wildlife safari's and jungle tours and during my time in Costa Rica I had several opportunities to accompany clients on their wildlife adventures.
I stayed in Costa Rica during an internship of several months at a hotel near the Arenal Volcano National Park and one of my tasks was to manage the activities and guided tours arranged by the hotel.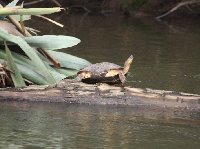 Travel Experience Laguna de Arenal
The Arenal Volcano National Park is a very popular touristic attraction and most tourists like to book a jungle tour with their booking so entrance fees and other supplementary costs are already included.
The first two rides on the jungle tour were amazing as the park was as new to me as the other guests and I couldn't stop gazing around, the wildlife was incredible! There are so many gorgeous animals in the Arenal Volcano National Park that I would recommend a guided tour through this stunning park to anyone visiting Costa Rica.
The Arenal Volcano Tours can differ with the changing of the season but always include some amazing panorama's of the Arenal Volcano and an exciting jungle walk or canoe ride. I attached some pictures of the amazing creatures you can meet up with during a tour through the Arenal National Park.
Make sure ti bring good walking shoes, protection and of course enough drinking water because it can get pretty hot and humid.