July 31st, 2010
One of the best wildlife spotting places in Costa Rica is the La Paz Waterfall Gardens located near Vara Blanca in the heart of Costa Rica.
The best thing about the La Paz Waterfall Gardens is that it has a hotel right in the middle of the park called The Peace Lodge.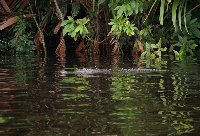 Travel Vara Blanca
The Peace Lodge is the perfect place from where you can explore the flora and fauna of Costa Rica's rich inland.
Every day tourists can go on different wildlife excursions and visit the Poas Volcano or enjoy a privat birdwatching tour.
We loved the luxury of The Peace Lodge in Vara Blanca as it was the perfect combination of a relaxing hotel stay and an adventurous holiday. The wildlife spotting was excellent and we saw all kinds or gorgeous creatures from tucans and parrots to crocodiles, wild monkeys and beautiful leaf frogs.
It was so nice to be able to go out hiking, jungle trekking or to enjoy a boat ride in the morning and come back at the lodge to relax and unwind. I would recommend The Peace Lodge and the La Paz Waterfall Gardens to anyone travelling to Costa Rica because it's simply a magical place!