August 4th, 2010
Around this time of year in 2009 my family and I made a trip to Indonesia. We landed in Jakarta but didn't spend much time there because we had rented a villa at the HB Guesthouse in Bogor and headed there straight from the airport.
The HB Guesthouse was a true blessing after our long flight and the tranquil atmosphere really calmed us down. The nice thing about the villa was that we had a large bed on the patio where we could sit and read or talk late at night when it was still warm outside.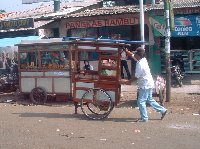 Vacation in Bogor
Bogor was the beginning of our island hopping experience in Indonesia. Bogor is located in West Java and from here we started exploring the island of Java.
From Java we flew to Bali and Flores, two other islands of Indonesia I will write about in my other posts. First Java and Bogor.
We arrived in Bogor on July 13th as we were picked up at Jakarta Airport and driven south to Bogor by our driver, Indra. He was also our guide for the upcoming days and our stay on Java Island.
The first night we were able to try the typical Indonesian cuisine which was a pleasant surprise and all the rise dishes were delicious. On our first day in Bogor we visited the Bogor Botanical Garden which belonged to the grounds of the Presidential Palace.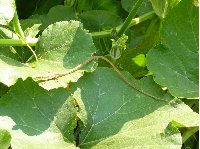 Vacation in Bogor
Today the botanical gardens contain a lot of interesting species of plants and trees which are all located among these beautiful lotus pounds. The gardens are home to some noisy fruit bats and a lot of curious birdlife.
We also found an angle with Dutch graves which obviously has something to do with the fact that the botanical gardens of Bogor were designed by a Dutch botanist.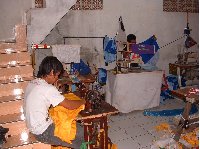 It was nice to have our guide with us to explain the history of the gardens and the variety of species held on its grounds. We even had a demonstration of coffee plant peeling as our guide showed us how the get the coffee beans from this fascinating plant. But even if you're not that much of an flora expert yourself the large botanical gardens form an excellent place to escape the chaos of Bogor city and go for a long walk.
Back in Bogor you won't find a lot of time to adjust to the chaotic traffic jams as tuk tuks and scooters will try to cut you off on every other angle. We had the best time observing all the possible vehicles on the road and couldn't believe how much stuff a scooter can carry!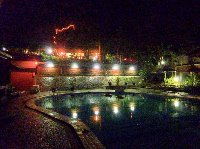 During our stay in Bogor we also visited a typical Indonesian kampung, which is a term used to indicate a small village in a rural area further out of the city center. The people living in the kampung are part of a different community which is selfmaintaining and depends on the unity and loyalty of its inhabitants.
It was nice to see this other side of Bogor and to meet these people in the kampung. We visited some people at their home and they were so welcoming and generous that it made our stay even more special. We watched their sewing and woodcarving crafts and even met an old couple that showed us their crafts. The man was a 100 years old and his wife 98 but so full of energy and they really took the effort to meet us and show us their work!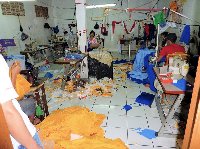 The visit to the kampung had made us even more curious to learn about the local traditions and customs in Bogor so when we saw a shop selling the traditional wayang dolls, used for theatre shows and other performances we went inside for a look.
The people were actually painting the wayang puppets by hand as we walked in and told us to join them if we were interested in learning more about their crafts. Of course we gave it a shot but left the finishing touches to the real craftsmen, we did bough a wayang doll to bring back home though!
South of Bogor we visited a large tea plantation and drove along some of the rice fields which turn these rural areas into beautiful green landscapes decorated with terraces and small trees. Again the people were really friendly and didn't seem to be bothered by our presence. After our stay in Bogor it was time to make our way to the next travel destination, Lembang, just north of Bandung and in eastern direction from Bogor and Jakarta.