August 7th, 2010
From Bedugul we drove back to Singaraja where we stopped for a fresh coconut drink and decided to accept our driver's offor to visit the Pura Meduwe Karang Temple, about 10 km east of Singaraja on the coast road.
We had to drive back in western direction to get to Lovina Beach where our hotel was at but we were happy to take another detour and visit one of the most impressive temples in North Bali.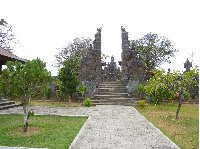 Travel Blog Singaraja
Singaraja is an old colonial capital and looks different from other cities in Bali. The houses are a lot larger and the streets are also wider.
Most people don't stay in Singaraja but visit on their way south to Denpasar or west to Lovina Beach like we did.
Besides the Pura Meduwe Karang Temple, which is dedicated mostly to the agricultural deities, you'll also find the largest Chinese temple in Bali here in Singaraja. Anyway, a good place for a coffee break and some sightseeing.