August 7th, 2010
From Lovina Beach in the northwestern tip of Bali we headed to the Banjar Buddhist monastery of Brahma Vihara Arama near the small Balinese village of Dencarik.
Dencarik is located about 2 km north of Banjar and home to Bali's largest Buddhist monastery, the Bahma Vihara Arama site.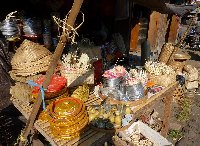 Trip to Dencarik
Besides the Buddhist monastery near Dencarik the area is also popular for the Banjar Hot Springs near the sacred site and just a hike away.
The views in this part of Bali are so beautiful that a visit is almost a must do during your Indonesia island hopping holiday.
The Buddhist monastery of Bahma Vihara Arama may remind you of the stupas at Borobudur as you'll find some similar Buddhas and a typical Balinese style of carvings and ornamentation.
The good and bad thing about the monastery and about Dencarik is that the location isn't that easy to reach so you won't find a lot of tourists crowding the site but it will take you some to time to drive to Banjar and the Bahma Vihara Arama.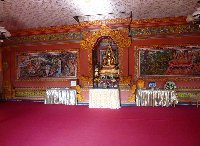 Trip to Dencarik
For us the ride was worth it also because we combined it with a visit to the Hot Springs so in the end it was a very relaxing and satisfying day.
The combination works well and if it were in a location easier to reach, this attraction would recieve far more visitors than it does. A visit here combines well with Banjar Hot Springs.