October 20th, 2011
If you are looking for a romantic destination with a very relaxing vibe to it than should consider Bali in Indonesia. This gorgeous island has a lot to offer while prices tend to be lower than for example in the US or in Europe.
Me and my husband went to Bali to celebrate our anniversary but we also had wanted to explore Indonesia for some time now.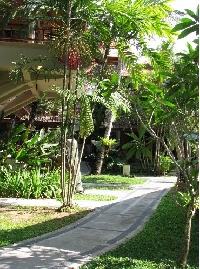 Where to go in Kuta
We love Asia and have visited many countries in South East Asia simply because all the ingredients for a perfect holiday tend to come together here from the great weather and picture perfect beaches to the friendly people, the delicious cuisine and, very appealing, the reasonable prices fro travelling.
If you choose to visit Indonesia then Bali is definately a good place to go to because of its great sites, relaxing resorts and spa's and good tourist information.
Many people come here to enjoy a relaxing and romantic holiday but I would suggest you go and explore the area around your hotel as well. Just rent a scooter and drive through small villages, along green rice fields and you will love Bali even more!
One of the great place that me and my husband stayed at was the Bali Tropic Resort and Spa in Kuta where we found the time to enjoy everything to the fullest.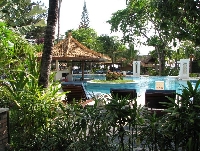 Where to go in Kuta
Located in southern Bali, Kuta is a former fishing village which over time turned into a popular beach resort and tourist hot-spot. As a conseguence you will have no problem finding nice restaurants, surfing gear or a nice place to stay. Especially Kuta Beach has become a very popular place with Australian and other foreign visitors who enjoy the good waves and often stick around for a long time.
The Bali Tropic Resort and Spa where we stayed at was a more luxurious accomodation type with great animation, a relaxing pool and even better restaurant service. Of course you will also be able to find hostels and less high end hotels in Kuta since the offer for tourists is huge.