August 7th, 2010
Besides the Buddhist monastery of Banjar there are a lot of other day trips that you could make from Lovina Beach, Bali.
We also went to visit Bedugul near Lake Bratan and about a 40 km drive from Lovina Beach, first in northern direction up the coast and in direction of Singaraja and then southwards in direction of Bali's most central lakes.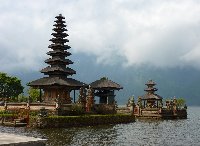 Travel Guide Bedugul
Lake Bratan, Lake Buyan and Lake Tamblingan are all located near Bedugul and starting with a visit to Lake Bratan, which lies a bit more south you could start driving up north to visit the other two lakes and make your return in direction of Singaraja.
This is about the day trip we made to Bedugul and considering the size of Bali you could easily visit different parts of the island in one day.
We visited a typical balinese temple at Lake Tamblingan where you'll find the Pura Gubug Tamblingan temple right on the shores of the lake. Near Lake Bratan we visited another similar site of the Pura Ulun Temple but this temple is actually located within the lake making it even more magical.