August 7th, 2010
We made our last day trip from Lovina Beach to Mount Batur and the gorgeous Pura Tegeh Koripan Temple near Lake Batur.
The funny thing was that as we arrived at the temple a large procession was going on, making our trip to Mount Batur a little but more special.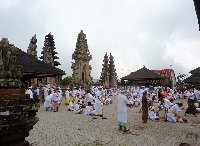 Vacation in Batur
Lake the temples at Lake Bratan and Lake Tamblingan the Pura Tegeh Koripan has the same Balinese towers that give all these sacred sites there island touch.
Unfortunately we weren't allowed to enter the procession but we did manage to take some nice pictures of it. From the Mount Batur Temple we also had an amazing view of the Mount Batur volcano crater and the lake.
After our visit at Pura Tegeh Koripan we left for another temple, the Pura Pancering Jagat. an old temple near the village of Trunyan on the eastside of Lake Bratan while Batur liest west of the lake.
Here we found the almost 4 meter high statue of Ratu Gede Pancering Jagat which belongs to a legend that is believed to possess magical powers. We all had to wear a sarong to visit the site which was a bit tricky for me and my son, especially with all the steps up to the top of the temple.
The view at the top was spectacular though and made the climb well worth it! Also at Pura Pancering Jagat we were able to witness some local ceremonies which was very interesting.