August 4th, 2010
From Bogor we drove east to Lembang which is located in West Java and not too far from Bandung, the capital of West Java where we headed afterwards.
In Lembang we stayed at Venity's Villa, a beautiful hotel with a large lobby area, really nice rooms and even more spectacular views of the city and the surrounding mountains.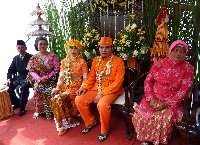 Holiday in Lembang
We also found a small internet corner which was convenient for the kids so they could write their friends back home.
The next day we went for a walk in Lembang to take some pictures and do some sightseeing when we ran into a wedding ceremony after some enthusiatic kids started waving at us making signs and laughing that we should come over.
Curious as we were about this typical Indonesian celebration we decided to stay and watch. The couple was really friendly and even allowed us to take pictures.
After the wedding ceremony we did some shopping at the local shops and visited the Catholic Church of Lembang which is located right in the center. After a few days in Lembang we headed about 10 km south to its bigger sister, Bandung.