August 4th, 2010
From Lembang it's a short ride to Bandung, the capital city of West Java and one of the largest cities in Indonesia.
Bandung is known to draw tourists and visitors to the Tangkuban Perahu Volcano, one of the city's attractions and a very fascinating place to visit.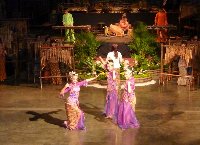 Travel Experience Bandung
After reading about the volcano in our guide book we decided to go on a day trip to the Tangkuban Perahu Volcano the next morning.
The volcano is such a popular place to visit also because visitors can choose to hike to the edge of the crater and see the hot water springs upclose.
We didn't hiked to the crater edge but drove up there instead and I must admit, the view of the Tangkuban Perahu volcano is really something!
At the Tangkuban Perahu volcano you will also find some market stands where you can buy souvenirs other other local crafs to have something to remind your Lembang trip by. They even sold eggs that were cooked on the surface of the volcano!
Back in Bandung we also went to a Wayang show which was really impressive with all the dancing and the beautiful customs, something we were glad to witness. After the show we had dinner with our driver Indra at a local eatery and ordered all kinds of tasty dishes. Make sure you try the egg Martabak, a pastry dish made of egg and vegetables, you'll become a fan!