August 5th, 2010
From Yogyakarta our Indonesia adventure on Java continued up north in direction of Borobudur, to visit the Mahayana Buddhist monument and the buddhist statues of Borobubudur which can be found in and around the large stupa's of the monument.
Borobudur is known as Indonesia's most visited tourist attraction and a longtime UNESCO favourite for its setting right in between to volcano's and its value for the history of Java and Indonesia.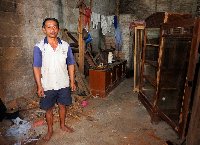 Tourism Borobudur
The best way to get to Borodur from Yogyakarta is by car as it lies approximate 40 km up north making it a great place for a day trip from the city.
We actucally had our hotel in Yogyakarta and went to Borodur for a day trip to visit the buddhist statues and get to somthing of the beautiful landscape up here.