August 5th, 2010
Heading southeast from Mount Merapi on our way back to Yogyakarta we visited the Prambanan temple complex near the town of Prambanan.
The Prambanan temple complex is a very popular tourist attraction and most visitors that stay in Yogyakarta make a day trip to this Hindu temple that reveals a bit of ancient Java.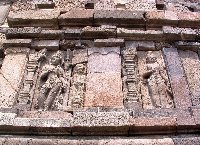 Travel Blog Prambanan
We had our own drive to get to Prambanan but there are also tours leaving Yogyakarta or even take a taxi by yourself.
The Prambanan temple really impressed me with its gorgeous and very elaborate decorations and baroque Hindu architecture. In front of the temple there were two beautiful statues of Dvarapala temple guardians protecting the holy places inside.
The Prambanan temple complex consits of different temple zones which can be best walked through with a local guide if you want to know more about the background of the temples.
There are many temples but of some you'll see that just a few shattered stones are left. There are three main zones to the Prambanan temple complex including the outer zone, the middle zone where you'll find a lot of smaller temples and a few rows of Hindu shrines lined up. The third zone and most important is the holiest inner zone.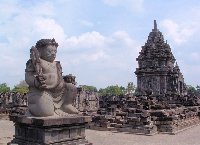 Travel Blog Prambanan
The holy inner zone contains eight large temples an shrines with three being the most sacred and dedicated to the Hindu Gods Brahma, Vishnu and Shiva. The last one, the Shiva Temple is the largest one of the Prambanan temple complex and the one that dominates the panoramic view when you approach Prambanan.
The two other shrines are those of Vishnu and Brahma. The former name of the Prambanan temple was Shivagrha and a fitting name for a temple that was built in honor of Hindu God Shiva.