August 5th, 2010
We left Yogyakarta and started driving in eastern direction to reach Surakarta, a city of Central Java that goes by the nickname of Solo after the Bengawan Solo River that the city borders.
About 65 km later we arrived in Surakarta. The main reason we made a stop in Surakarta was to explore the two main markets that Solo is known for.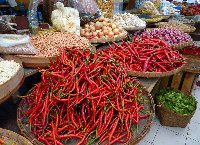 Vacation in Surakarta
Beside the Pasar Klewer market which is the largest textile market in the Central Java Region we also visited the Pasar Gede market.
The Pasar Gede market is a smaller and more traditional market that can be found in Solo's Chinese quarter selling all manner of produce like fruit, vegetables, meat and fish.
We bought some fresh fruit for on the way and kept driving east in direction of Mount Lawu where we wanted to visit the ancient Hindu temple of Candi Sukuh.