August 5th, 2010
The Candi Sukuh Temple can be found on the slopes of Mount Lawu in Central Java, Indonesia.
The remains of the Candi Sukuh are visited by tourists travelling in eastern direction through Java or those who make a day trip there from Surakarta, north of Yogyakarta.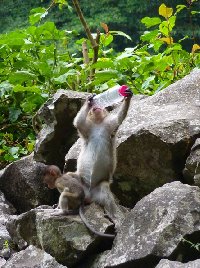 Where to go in Mt Lawu
The Hindu Temple of Candi Sukuh is known for its provocating and almost surreal statues that were built on the slopes of Mount Lawu to worship the ancestors and the nature spirits in order to improve the fertility of the land.
Some statues are partly destroyed but the most evident parts speak of a period before sexual education, like the Candi Sukuh was built in a different time compared to the other Hindu temples.
There's a dominating display of exposed intimate body features and poses of spiritual worship, very interesting and also quite rare for the Hindu sites in Indonesia.
After our visit to the Candi Sukuh site we went for a walk down Mount Lawu and followed a trail that leaded to a waterfall a few km down the road. To our surprise there were quite a lot of tourists at the waterfalls and even some curious wild monkeys.