August 5th, 2010
Via Sarangang where we made a stop at the lake to have lunch and rest before our long road trip to the eastern part of Java, Indonesia we drove in direction of Mount Bromo, one of our final stops on Java Island before we headed to Bali, another beautiful island of our Indonesia island hopping adventure.
The trip to Mount Bromo via Sarangan will take you about 6 hours by car covering over 260 km and the only thing that will take some getting used to will be the driving on the left.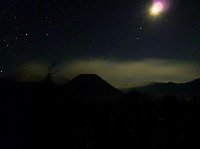 Tours Mt Bromo
As soon as we started to get closer to our destination we could see the volcano coming into sight untill we were finally there!
After a night of little sleep the next morning we woke up at a ridiculous time for an exciting hike up Mount Bromo to view the city down hill from above and enjoy a gorgeous sunrise. The panorama was definately worth the hike and I still think it was one of our highlights in Indonesia.