August 6th, 2010
From our Mt Bromo hike we drove further to East Java and arrived in the Kalibaru Region where we checked into the Kalibaru Resort to enjoy our last days on Java.
In Kalibaru we visited the Glenmore plantation where a tour guide showed us around the plantation and the factory to explain us more about the crops and what goes on at the plantation.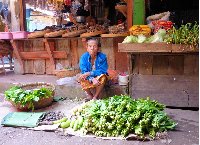 Tourism Kalibaru
Our guide showed us how the cacao beans were fermented in order to develop their tasty chocolate flavor. We also learned more about the selection of coffee beans and even the harvesting from the rubber trees.
After our trip to the Glenmore plantation we headed to the Kalibaru market for some grocery shopping. Besides the large variety of ingredients and local produce the markt is also a good place to meet the people and we had a great time chatting and making pictures with them.
We spend our last days in Kalibaru before travelling more east to take the ferry to Bali. Our stay in Java and Indonesia so far had been an amazing experience but we still had a lot of nice moments to live!