August 7th, 2010
From the island of Java we had travelled to the island of Bali and now it was time to hop on all the way to Flores, an island of Indonesia that lies north of Sumba and west of Timor.
Ruteng is a town located on the western side of Flores Island and not that an important city to visit for its tourist attractions but a common place to head to first.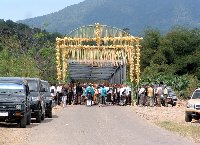 Where to go in Ruteng
As soon as we arrived on Flores we drove to Ruteng but thing didn't go as smooth as we thought.
First we got stuck in a local ceremony which was quite interesting and then we got a flat tyre, less interesting..
So after a few hours waiting at a local garage and chatting with the locals on Flores Island we continued our way to Ruteng.
On the way we stopped at a local Padang restaurant which are known for their tasty but spicy Indonesian dishes.There were all kinds of small dishes to choose from like curried fish, fried chicken, and stewed vegetables.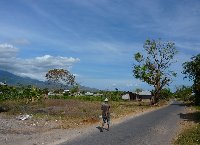 Where to go in Ruteng
Driving into Ruteng we could see the red chapels of the Ruteng Cathedral and knew we had finally arrived! We made a visit to the cathedral and even came across a friendly pastor who was friendly enough to give us a tour around the church.
The rest of our time in Ruteng we spend sightseeing in and around town. There was a second and newer cathedral we visited and we made a trip through the mountains where we had some nice views of Ruteng and the surrounding rice fields. From Ruteng we continued our journey on Flores to Labuan Bajo.