August 7th, 2010
From Ruteng in the heart of Flores, an island of the Indonesia archipelago, we headed to Labuan Bajo, or Labuhanbajo, on the west coast of the island.
On Flores the town of Labuan Bajo is known as a relaxing beach town popular for diving, sailing and other water activities.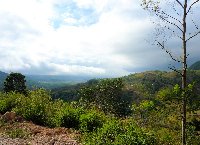 Tours Labuhanbajo
We had little active excursions planned for our stay in Labuan Bajo and simply wanted to enjoy this beautiful place.
We had booked a very nice hotel which had an amazing view of the Labuan Bajo harbor and the Flores Sea. The hotel also had a great restaurant where we went and had dinner at night as nature showed us some of the most stunning sunsets.
Being so close to the harbor we also visited the fish market where the fishermen sell their fresh produce everyday. Besides the great seafood staying in Labuan Bajo was also convenient because we wanted to make a boat ride to Rincah, an island that lies in between the main Flores Island and Komodo Island.