August 7th, 2010
From Flores Island we flew back Bali where we landed in Denpasar, the capital city of the Bali Province and the gateway to the rest of the island.
From Denpasar we headed from the southern Bali to the northwest where we stayed at Lovina Beach near the city of Sangaraja.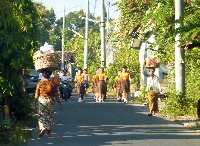 Travel Lovina Beach
Lovina Beach is known for its relaxing atmosphere, nice beaches and is becoming more popular with tourists trying the escape the busy south.
In Lovina Beach we had a nice hotel near the beach with pool and a large room for us four to stay in. In the morning we went for a stroll along the beach to visit some of the temple that are built there.
We also went on a dolphin spotting boat ride which was really nice and it was great to see these animals in their natural habitat. It was the beginning of August when we stayed in Lovina Beach and walking through the streets we saw all kinds of festival preparations for the upcoming Indonesian Declaration of Independence celebrations of August the 17th. Too bad we couldn't stay to experience the festival but maybe next time!