August 18th, 2010
For our second time on the bullet train we took the Shinkansen from Odawara to Tokyo, the capital of Japan. It took us only 34 minutes to get to Tokyo aboard the Shinkansen train and we had arrived before we knew it.
Tokyo is an incredible city that every dedicated traveller should visit at least once and being the capital of Japan a visit to this beautiful country isn't complete without it.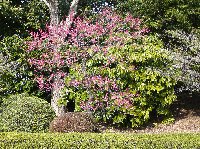 Vacation in Tokyo
Arrived in Tokyo our guide accompanied us by bus to our accomodation at Hotel Gimmond Tokyo.
In the afternoon we visited the Tokyo Imperial Palace, the residence of the Emperor of Japan.
Part of the Imperial Palace, formerly known as the Edo Castle, are several building among which the main palace knows as Kyuden, the private residences of the imperial family and some beautiful gardens like the Fukiage Garden which belongs to the imperial residence, the East Garden which contains the Tokagakudo Music Hall and Ninomaru Garden known for its symbolic trees.
We also spotted some beautiful cherry bushes and trees in blossom which added up to the magical scenic views.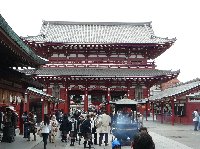 Vacation in Tokyo
After our visit to the Tokyo Imperial Palace and Gardens we moved to Ginza, a luxurious shopping district in Tokyo known for its upscale boutiques and restaurants. Here we also spotted the Sony Building so Ginza is without a doubt the place to get your hand on some first class gadgets.
We did some sightseeing using Tokyo's metro system and went to Shibuya, the city's busiest station and a flourishing business district which involves around the Shibuya Crossing. Shibuya is also a gathering point for fashionista's and nightlife lovers strolling along the many clubs and bars.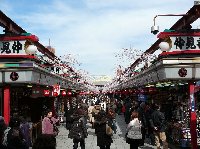 Another district loved and visited by many tourists is Asakusa, home to the Senso-Ji Temple and the Asakusa Shrine honoring the founders of Senso-Ji, Tokyo's oldest temple which was built in 645 and a very significant one.
Like other sacred sites the Senso-Ji Temple in Asakusa is dedicated to the deity of Kannon, The Goddess of Mercy. To get to the temple you have to pass the Kaminarimon, also known as the Thunder Gate.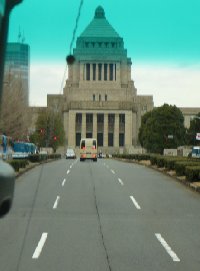 The great red lantern hanging at the ceiling of the Kaminarimon is decorated with a wooden carving of a dragon and the gate houses two Shinto statues of the deities, Fujin, the god of wind and Raijin, the god of thunder and lightning which are part of this spiritual Japanese ideology. Next to these you will also find the Buddhist statues of Tenryu and Kenryu.
Passing the Kaminarimon Gate there is a street with small boutiques lined up selling souvenirs and religious objects and flowers which was perfect so we could buy some nice reminders of our stay in Tokyo.
From Tokyo we continued our Japanese adventure by train in direction of Nagano, to the northwest of Japan.